Multi Use Products
HOTSURF69 Is committed to producing Multi use, long lasting products.

Too many beach and surf items are discarded on beaches and coastlines each year. This transpires mostly due to breakage and failure of these items.
At HOT SURF 69 we believe that this is completely un necessary. We have teamed up with "Beach care" who are the coastal element of "Keep Britain tidy" to try to prevent more unneeded landfill.

It is true that a large amount of surf equipment is made from EPS (expanded polystyrene) and most of this comes from the far east, but that makes it all the more important to make sure your things LAST.
On each relevant HOT SURF 69 product you will notice some small icons. The significance of each is explained below.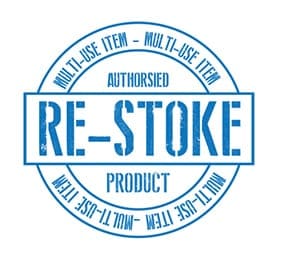 This is a stamp of guarantee. Each product with this icon has been tested and is proven to last through multiple usages. On bodyboards it means that this particular board follows the 3 golden rules of a multi use board. These are;:
HDPE slick bottom. This adds strength and flex to help against snapping. It also keeps the leash plug form excessive "wiggle" stopping the hole widening and causing weaknesses and pull –through.
XPE deck skin. This is an added deck skin that helps with strength and flex and prevents excessive leash "wiggle"
Webbing leash at Minimum. Anything less than a webbing leash EG String, twine or cord can have a cheese-wire effect and can ruin your board quickly. This is a big reason for discarded boards.

Every HOT SURF 69 product with this 2% icon gives back!! 2% of the retail value at sale goes to BEACH CARE to help tackle the cleanup of beaches and to research new ways to prevent beach waste going to landfill.

This means that your product is not sold by any "online only" shops. It is sold by people who own bricks and mortar stores aswell as online.